Hello.
This time, we are pleased to introduce you the feature point and the review of the acoustic guitar "Seed S-1000TS" from our user.

1.Strong sound from the Thermo Wood body.
This is the most feature point that is the strong sound from the Thermo Wood body.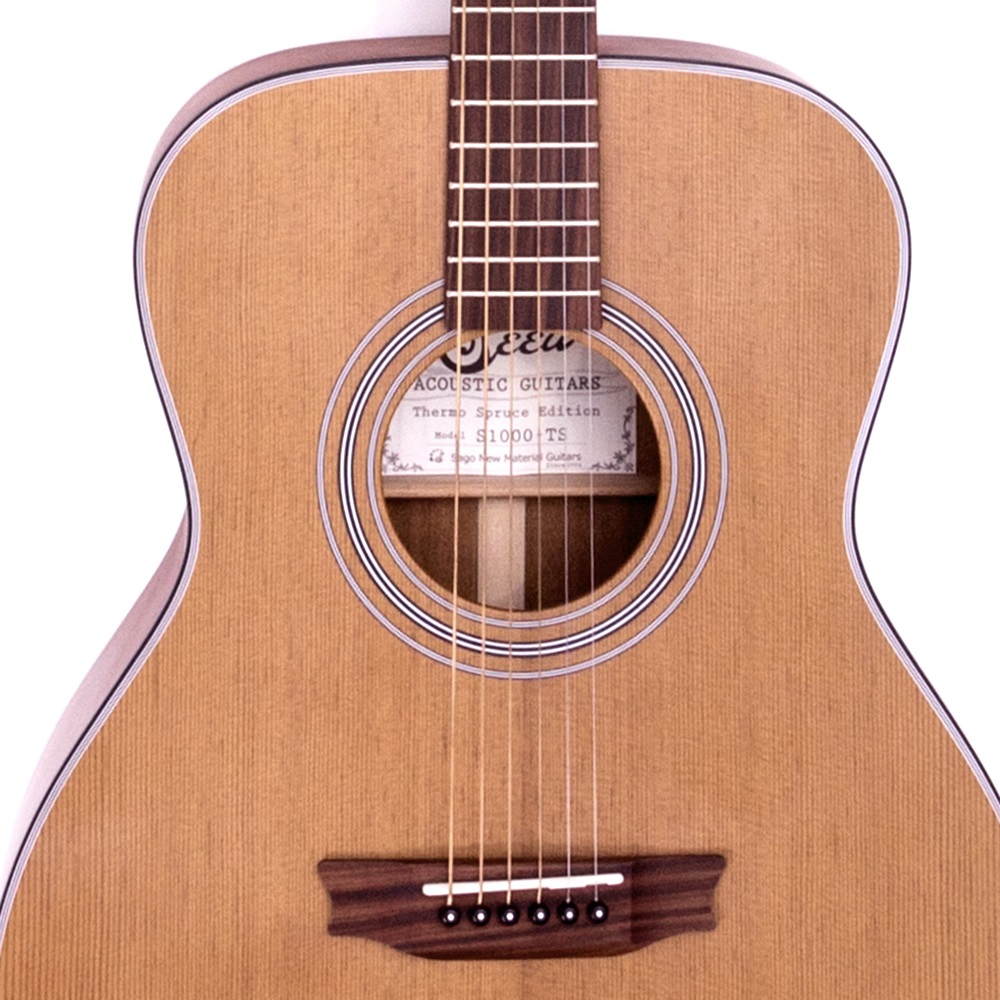 It has the big sound that you wouldn't imagine from the small body.
You can feel acoustic warm sound in playing by finger picking thanks to Thermo Spruce.
Guitars are given so many benefits by Thermo proceeding to the wood materials.
You can feel the characteristic vintage sound and acoustic tone.
* Please refer to our blog that we introduce " Thermowood" in detail as below.
And Mr. Shin Ohmura(Guitarist of Wagakkiband: Mr. Machiya ) comments
" This guitar has great high tone so we can enjoy arpeggio more clearly."
When playing in lead guitar, you can feel the fast response similar to clean tone of electric guitar.
Therefore it has great presence in acoustic band with a cajon or an acoustic bass.
When playing with pick, it has unity of its sound. So you can use at any situation for example singing with a guitar or band.
2.Playing such as electric guitar?
When you play an acoustic guitar, do you have the experience that you feel neck size is thick and strings height is high?
We design similar like a electric guitar. S1000-TS has compact C shape neck and lower strings height as acoustic guitar.

The scale is 650mm however the strings interval is narrow so you can get easy to grip.
It's said "F code wall", but it's easy to press down at the low position by S1000-TS.
We have heard great playability and gotten good reviews and from the artists that always use the instruments of Sago brand.
When you play acoustic guitar, you will realize that it is so compact and easy to play.
It is easy to feel that it's so fit to your body because it is OM type.

And it's easy to play it that the body is thin when you stand to play with strap.

You can keep the same tension even if down turning and irregular turning because its pitch is stable and accuracy.

We have designed it is suitable to ladies with smaller hands, so it's good for the beginners.
3.Custom to Electronic – Acoustic guitar with the preamp
When playing an acoustic guitar in live, guitar players will choose Line out to D.I.(Direct Box) more than miking to the acoustic guitar.
You can keep the independence of the acoustic guitar sound and prevent the microphone feedback.
The normal spec. of Seed S1000-TS doesn't belong to the preamp but you can order it as *Electric – Acoustic guitar with preamp.
* Electric – Acoustic guitar: It can be possible to amplify the sound connecting to the guitar amp and to line out connecting to PA mixer.
You can choose 2 kinds of preamp "L.R.BAGGS Anthem" and "FISHMAN RARE EARTH MIC BLEND".
L.R.BAGGS Anthem
FISHMAN RARE EARTH MIC BLEND
And it takes around 10 working days after you order it with the preamp.
4.Accessories
At last, we will introduce you the accessories of Seed S1000-TS.
4-1.Pick-guard
You can customize the pick-guard.

Please put it according to your taste.
4-2.Soft case
It belongs to the soft case with "S" mark of Seed.
You can carry it to not only live house and studio but also outdoor and picnic without hesitation.

5.Postscript
This is all for time.
The dark brown color due to Thermo proceed is unique point of S1000-TS.
Seed S1000-TS includes various idea from our production of the electric guitars and basses.
Please try to play it.



↓ Order page of Seed S1000-TS as under.